Worst Airbnb experience - Mon, Oct 3, 2022
Well, we had a really bad experience with a host in Portugal. He waited only 10 minutes for us and then he left the place, without responding for hours. We had to book another hotel which was not a bad idea at all :). The place was really cheap and I didn't care about the refunding. Still, we didn't get any support options from Airbnb. The most unpleasant part was today, when my review was removed because it's against their community standards. I will post the two reviews and the last Airbnb support message below, you can get your conclusions.
Here is what I wrote:
Worst airbnb experience ever. The check-in time in the listing was 2PM. Filipe sent me a message the night before our arrival. He asked me when we will arrive. I was unsure because we were going to take a rented car from Lisbon's airport. He was ok with that and told me to warn him about arrival time at least an hour in advance.
On the next day, when we got the car, I wrote a message to him. According to the GPS data, our arrival time was around 1:30PM but we were dependent of the traffic conditions.
At 1:33PM he wrote to me "- Have you arrived here? I cannot wait much more, sorry." I was still driving on the highway and it was really difficult for me to write messages.
In 1:40, he wrote "Sorry, you missed your check in time. I cannot wait more, i have to go.
In the afternoon, i will be back in the house." and then he stopped responding until 3:20PM when he wrote me that he will be in the house in 4:00.
When he stopped responding, we decided to book a hotel. We had only a day in Sintra and this was blocking our whole schedule.
Filipe was complaining that he had to wait for us for 40 minutes. Between 1:30 and 1:42 are 12 minutes?! I'm not responsible for his arrival time.

Also, the place is much far from everything. The old town of Sintra is like in another town. It's usable if you have a car.

This is what I got from Airbnb today:
Hi Blagovest. This is Bernardo X from Airbnb. How are you?

We wanted to let you know your review for reservation HMXDN8KYTS about Filipe & SintraTrip goes against our Review Policy, so we've removed it.

The review didn't have enough relevant information to help the Airbnb community make informed booking decisions.

We understand how important a trustworthy, reliable review system is, that's why our Review Policy is designed to ensure that Hosts and guests receive fair, relevant and accurate reviews.

You can find plenty of information about our policy in our Help Center at:

airbnb.com/help/article/548

Thanks in advance for your understanding. Please do not hesitate to let us know if you have any other questions—we're always more than happy to help!

This is what Filipe wrote to my profile. I didn't have any chance to respond since I'm censored by Airbnb. :
Filipe

This guest was late for check in, instead of aggreeing with host a new time for check in, he decided to book another place to stay and did not informed us at all, only after our contact he told us he was staying in another place. Besides we have not met him personally, it was Not a good experience, but we respected guest decision.

Here are some other bad reviews for the same host. It's interesting why he is still operating and this is tolerated by Airbnb:
Jayly, China

It was the worst experience. The place was clean but the landlord is horrible and so unfriendly so inflexible. He said the check in time is from 2pm to 11pm. But he was asking for my check-in time,due to we are new in sintra and didn't know the traffic is so bad by driving,so i said the check-in time is around 6:30pm(more or less). But then we had traffic so i tired to text him as earlier as possible we might be a bit late in case he will be waiting for us. But he was so inflexible and unfriendly. I understand i couldn't make it at 6:30pm is my fault but we are traveling and new, it can be happened sometimes. I even asked where i can come to pick up the key because the landlord said he wouldn't wait for us and the next check-in time would be after 3.5h. We were exhausted and wanted to check-in earlier. So i suggested to go to the place where the landlord is to pick up the key.but the landlord suggested us to wait 3.5h or cancel the stay without returning the money back. I really couldn't understand why he is so inflexible. We only have two choices(wait 3.5h or cancel it without money back). He even warned us he will call the police if i entry his house without permission but we didn't say anything about it. That's very rude and unfriendly to just say it to the guest. And we had some argument when we check-in also. I have recorded the all conversations just in case he wants to call the police or make trouble. I have attached most conversations for your booking reference. When you ready the conversation please be notice the time difference(1h)--My screen shows 7pm It's actually 6pm for example. I barely write comments but it was a really bad experience and i hope other people won't be in the same case as us.

Despite this unpleasant moment, we had a great experience in Portugal. It's a really nice country with great nature and great people.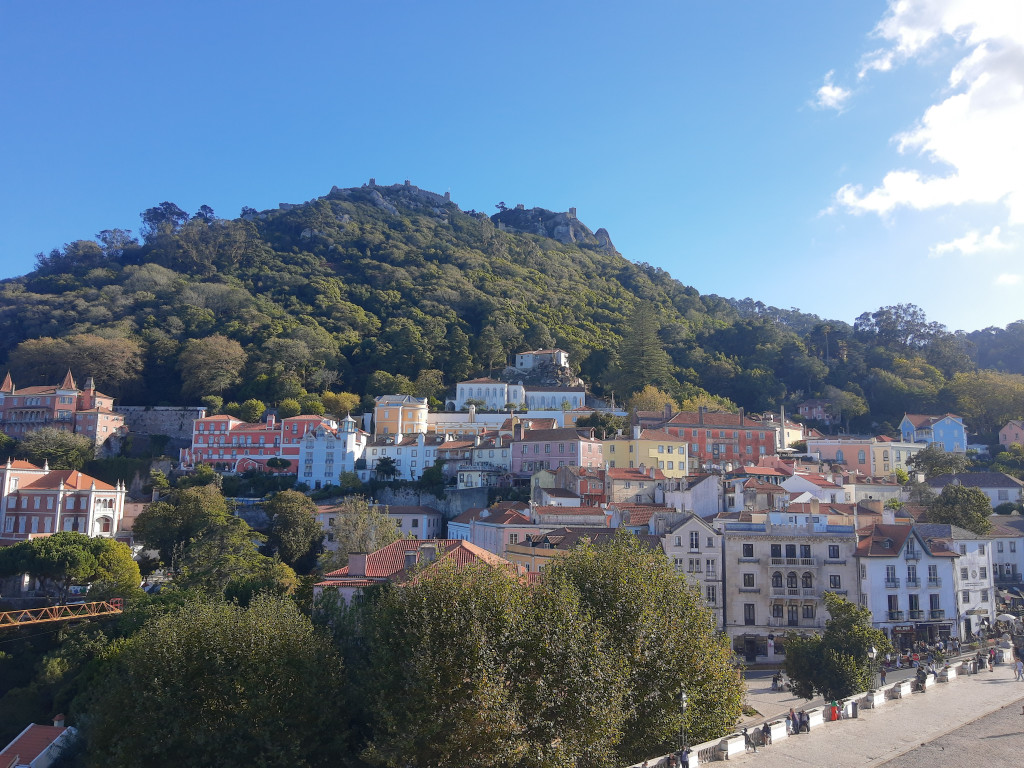 A view from Sintra's castle
Comments